MEET CHEF TIM WOOD ~ Woody's Restaurant & Bar @ Monterey Regional Airport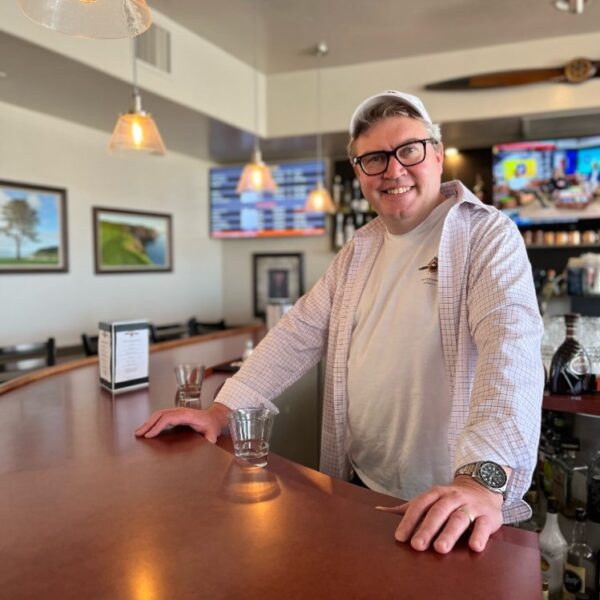 Get to know Chef Tim Wood. He is about as unique as a chef can be. Full of personality, quick with wit, and uncompromising in his craft. This Q&A originated as a conversation between the Chef and Michael Hale, a writer at "Carmel Magazine."
Q: Describe how you came about the decision to take over what used to be an iconic local restaurant The Golden Tee?
Chef Tim Wood: Well basically it all happened so fast like many other things in my life decision was made for me. It all started after leaving Carmel Valley Ranch. I was receiving multiple inquiries about what I would be doing next and many local restaurants were try to see if I'd be interested in taking over their spot looking back a very humbling thought … for some and others well lets just say they wanted out .. or so it felt .
Chris Caul, who I had been bouncing these ideas off of, came up with the Golden Tee. He is friends for years with Bobby Richards, the former co-owner of Golden Tee. Chris suggested a meeting.
Q: Your family and friends must have thought you were a bit mad, right?
Chef Tim Wood: I had to let my wife handle this one. She said honestly, if it was any other spot it would be different. This just felt right because of the support of the board at the airport the locals and the community. And the fact that it's a straightforward restaurant. Does it seem crazy to open a restaurant during a pandemic? Sure … but somehow it is making sense.
Q: Describe your customers at Woody's; who are they and what do they want?
Chef Tim Wood: Like many institutions there a colorful bunch! They consisted of a lot of families especially locals from Salinas, Monterey and generations of families that would come from all over. The airport folks are great and the businesses along Garden Road and Ryan Ranch … these are our guests. A big shout out to Carmel Valley and Carmel by the Sea as there's a following who are going the extra mile to come visit on a regular basis. It's very heartfelt.. and welcomed.
Q: What special challenges are built into running an airport restaurant?
Chef Tim Wood: Well if you asked me two months ago I wouldn't have a long list, but the challenges are being met and overcome. Pandemic would be #1 because there's no real sense to have a rhythm, there's no rhyme nor reason. It's not business as usual.
Regarding Woody's Cockpit, adjacent to the boarding gates: Learning the training for clearance through TSA guidelines and badging training employees to understand the proper protocol. I worked every shift for three weeks in the Cockpit so you can imagine that was a bit of a challenge running downstairs serving two Egg McMuffin's, some coffees and drinks. The closing it down for an hour, running upstairs and taking care of lunch then same show for afternoon flights and dinner!
Q: Roughly what percentage of customers are travelers/airport workers compared to locals coming for a good meal?
Chef Tim Wood: I am told 70% of the guests in the past were locals. From what I'm seeing we're on the same protectory, more like 80 now. But again hard to tell. We're getting a lot more folks that are flying out. And keep in mind, we were changing over websites, changing over employees habits that have been there for 10 years.
Q: How do you balance keeping the nostalgic favorites (such as sand dabs) while still having a modern menu?
Chef Tim Wood: I think that's the plan we've been digging in deeper with the cooks who were cooking the favorites asking a lot of questions cooking together and trying to understand what would be a dish perhaps you wouldn't wanna mess with. But clean it up a little bit, get fresh produce from Swank Farms, look at the quality of the fish, where it's coming from, in the sand dabs case.
I am listening to what the locals have to say and what they were looking for and what I have to offer. That, I think, is the key to the success here at Woody's. Like so many chefs, we all wanna make food that we want to make but what I've learned is you can make the best food in the world but if your guests aren't enjoying it it doesn't make any sense.
Q: What are your biggest challenges at Woody's?
Chef Tim Wood: Big challenges are turning over a restaurant in less than a month between the POS system and the liquor license and the Board of Health and all the things that you would normally do are now under different circumstances because of the pandemic.
Q; What's it like working with your old buddy Chris Caul? What is his role?
Chef Tim Wood: It's like a bit of a marriage you agree and you disagree. Were both trying to figure things out when you have two male Leo's who both in the same profession it's difficult sometimes but at the end of the day I think it's going to be a great relationship. For a good month we looked like Al Pacino and Johnny Depp in the movie Donnie Brasco. Chris would just mumble some stuff and takeoff. I'm trying to pick up the pieces and understand all the years of owning your own business and the steps to opening one. The ABC board, the lawyers contracts, leases, all the new vendors and dealing with their credit applications, bringing down phone bills, bringing in new phone systems.
Q: How old are you now, and when do you most feel your age?
Chef Tim Wood: I think I'm 50 no wait 47. As many people know, I've definitely burnt that candle on every side plus the middle. I don't have time to feel my age as I'm putting my all into this project. But I will say there's been a feeling I haven't had in a long time – like an adventure, like when I was very young in my culinary career. The excitement mix with nervousness mixed with not really knowing the answers but knowing you'll figure it out. The excitement of a group of people working together and forming a new team that's truly like a small mom and pop family that makes me feel young again and sometimes a bit tired.
Q: What's your favorite childhood food memory?
Chef Tim Wood: I think one of my favorites was we would go to Rhode Island from New York in the summer, rent a cottage and I could invite one friends and we could go out clamming with my father. We would have lobster dinners and my mother would tell stories of how my great grandfather was a chef who did lobster bakes on the beach.
Q: What is your food philosophy at Woody's?
Chef Tim Wood: I'd say the food philosophy is elevated comfort food using the same ingredients that I have during my career on the peninsula sourcing what I can and figure out creative ways to have it makes sense both from a customers point of view an economic point of view. The front is quite the same making sure the hospitality is turned up to 11, even if you're not having your best day..
Q: What do you cook at home on a day off?

Chef Tim Wood: Traditionally, when having normal hours, you know Tuesday through Saturday, going in for a little bit Sunday and Monday to make sure everything's cool. I would always make like when I grew up with a Sunday dinner with her in the summer it was heirloom tomatoes and grilled steak with a Caesar salad or in the winter slow cooked phrases like osso bucco or just nostalgia like meatloaf, or my mothers baked chicken, veggies and with potatoes pan gravy a must .. usually some thing like a piece of fish or just farmers market style freestyle cooking.
Q: If you hadn't become a chef, what profession would you have chosen?
Chef Tim Wood: I love animals so I always wanted to be a veterinarian, but if that was the case I think would still be in school. I also always wanted to be an actor. That's where a lot of those silly impersonations I do come from, studying people how they react. I always like to be the funny guy. I realized, at a young age, if I ever wanna do that (be an actor) I'm gonna need something to fall back on. So let's just say I've been a character actor as a chef for the last 30 years.
I think I'm type-cast as I can't get a "role" doing any other character. (LOL)
"Chef Tim Wood is a culinary artist. The award-winning and locally celebrated chef works tirelessly with the bounty of Monterey—including fresh catches and even fresher produce—to effortlessly create meals for locals and visitors to enjoy. "If you ask me my age, I'm 129 years old in chef years."
"Wood has done everything from resort cooking in the Catskills, where he grew up, to fine dining under Michelin-starred chefs in Manhattan.
And now voted the BEST NEW RESTAURANT for 2021!"
"There are any number of reasons Wood was frequently voted the best chef in the area, but three stand out: his intuition for spotlighting great product in accessible dishes, his generosity with community events and—perhaps most memorably—his knack for hosting guests with humor and candor."
"Chef-driven fare in a laidback setting. I'm so excited we have a chef who understands the travel needs of the public, but also has such a good following in the community. I think it's a perfect fit for the airport and also for him. He can display his talents to the world"
– Airport Board Chair Mary Ann Leffel