MENU ~ Woody's Restaurant & Bar @ Monterey Regional Airport
Formerly "The Golden Tee Restaurant"
We are open for Food & Drinks to go!
Ask about our Daily Specials
Call to preorder for your convenience
Everyday / 365 days a year: 10am – 7pm
This business has a cash Discount incentive of 4% All goods and services are priced for CASH PAYMENTS
Purchases made with CREDIT CARD will receive a small NON-CASH adjustment, which will be displayed on your receipt
Parking Validation with a $15.00 Minimum Purchase ~ Two Hour Maximum Limit
You can come in to pick up or we can deliver to you curb-side.
There's plenty of seating throughout the airport, inside and out. And we validate parking!
We're all in this together.
Woody's at the airport is completely committed to your satisfaction and safety. Covid safety regulations—including personal protective gear, physical distancing and utmost sanitation are strictly enforced.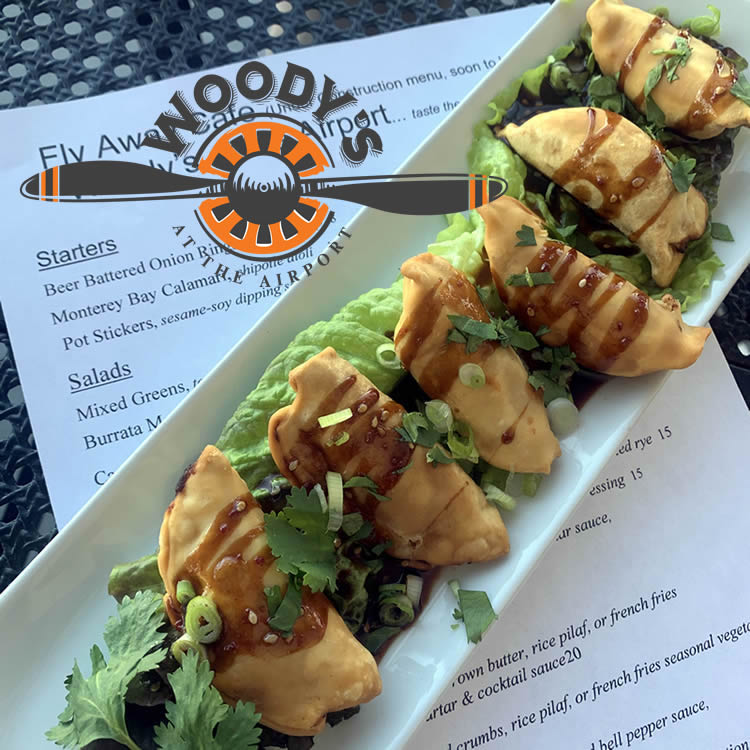 WOODY'S LUNCH & DINNER TO GO MENU
Starters
Classic New England Clam Chowder
East Coast Woody's Style…6 Cup 9 Bowl
Daily Soup 6 Cup 9 Bowl
Monterey Bay Calamari Woody's Special Sauces 10.5
Beer Battered Onion Rings Spicy Ketchup 9
Pot Stickers Sesame-Soy Sauce Drizzle 11.5
San Daniele Prosciutto & Burrata Cheese Local Carmel Valley Olive Oil
Swank Farms Tomatoes, Grilled French Connection Baguette 15
Salad
Mixed Greens Tomatoes, Cucumbers, Carrots, Choice of Dressing 11
Woody's Signature Wedge Salad Swank Farms Iceberg, Woody's Blue Cheese
Dressing, Baker's Bacon, Winter Radish 14
Caesar Salad Romaine, Home-Made Anchovy Dressing, Croutons, Parmesan 13
Swank Farms Beet Salad Baby Greens, Citrus, Fennel, Sherry Vinaigrette 14
Add to any Salad: Chicken 6, Salmon 8, Steak 9
Sandwiches
(Choice of French Fries or Salad)
Woody's Harris Ranch Burger Smoked Bacon, Cheddar, Red Onion, Lettuce, Tomato 15
Classic Patty Melt Caramelized Onions, Swiss Cheese, Thousand Island, Grilled Rye 15
Roast Turkey Breast Apple-Wood Smoked Bacon, Avocado , Mayo 15
Fried Calamari Steak Cracker Bread Crumbs,Lettuce, Tomato,House-Made Tartar Sauce 15
Swiss Chard "Griddled" Sourdough Melt 3 Cheeses, Tomato, 1000 Island dressing 15
Entrees
Some items served after 2:00pm but ask if we can do it for you.
(Entrees Served with Rice Pilaf, Whipped Potatoes, or French Fries)
Sauteed Sand Dabs Dusted with Garden Herb Flour, Caper Beurre Blanc, Swank Farms
Harvest Vegetables House-Made Tartar 22
Fried Calamari Steak Cracker Bread Crumbs, Swank Farms Harvest Vegetables with
House-Made Tartar & Cocktail Sauce 21
Harris Ranch 14oz Rib Eye Steak Caramelized Onions, Red Wine Reduction
Swank Farm Harvest Vegetables 34
Pasture Raised Chicken Breast Polenta, Sauteed greens, Sweet Onion Madeira Jus, Swank
Farm Harvest Vegetables 26
"A locals cult hit reborn​. Thank goodness it's back! Golden Tee was one of my favorite places… such a good vibe in an under-the-radar spot. Now it's even better."
—Local bar owner and businesswoman Katie Blandin